Who we are...
Preschool

3 to 5 Years Old
Monday Wednesday Friday
9:30 - 11:45
Moms and Tots

18 Months to 3 Years Old
Tuesday and Thursday
9:30 - 11:15

Lakeland Preschool coop is a nondenominational, non-profit, preschool that is owned and operated by the parents of children who attend our school.

Our school has a developmental play-based philosophy that provides a relaxed, loving, and positive atmosphere. The curriculum emphasizes exploration and discovery while fostering and developing independence and self-confidence in the children.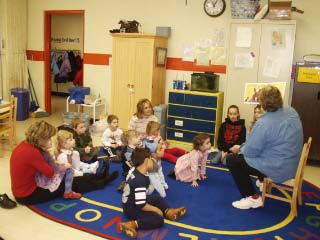 We also provide educational and participatory programs for our parents such as parenting seminars, CPR, etc.
The fee for the normal pre-school program is $95/month (reduced charge for 1 or 2 day program). Since this is a cooperative, a parent would also assist an average of two days a month. For an additional $50 per month, we have been able to find other parents to take over the assist duties. In addition, there is a $50/year supply fee and $50/year registration fee.
The fee for Moms and Tots is $45/month (extra $20/month for additional child, reduced charge for one day program) plus a $25 /year supply fee and a $50 / year registration fee.